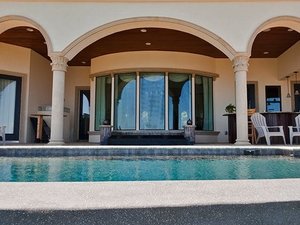 When it comes to enhancing your Saint Lucie home, don't feel the need to choose between style and function. With the help of White Aluminum's impact windows Port Saint Lucie homeowners can enjoy the best of both worlds with a custom, quality product they can count on during hurricane season and all year long.
Enhance your home's one-of-a-kind style
New windows can help showcase crisp, beautiful outdoor views, lending an element of style to your space. From custom picture windows to traditional arched designs and many more, new impact windows give you the chance to beautify your home's exterior.
Protect your home's interior
Of course, new impact windows don't just look great—they serve as an essential barrier between your home and the elements outside, whether they be strong winds and debris during hurricane season or everyday storm conditions. They also provide an added layer of security from intruders, and even provide an aesthetic "safety net" to protect your drapes, furniture and flooring from fading due to the sun. When you've invested so much time and TLC in crafting a gorgeous interior, you naturally want to help it look its best for years to come! This is exactly what you can count on with impact windows by White Aluminum.
Enjoy serious savings
Because they provide such an excellent, sturdy "seal" between your home and the warm, sunny weather outside, impact windows can help you save on your energy bill—as you'll no longer have to worry about cranking the air conditioner at full blast to make up for inefficient windows letting air pass through.
Ready to take the next step toward a beautiful home, inside and out? Enjoy some serious peace of mind during hurricane season and all year long with the help of White Aluminum Port St. Lucie—we can't wait to work with you!