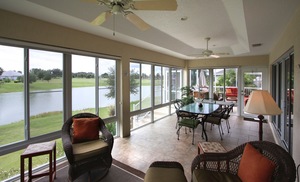 If your family room is doing double (or triple) duty this year as a part-time playroom, study room and home office, well, you're not alone! These days, as we all spend more time at home, we need more out of the space that surrounds us. Fortunately, a beautiful St. Lucie sunroom or screen room might just be the solution you need to house all of your activities and interests with ease and some much-needed breathing room. Just read on to learn more.
Start with a spacious foundation
Your perfect multipurpose room begins with a quality, comfortable foundation! Similar to screen enclosures Port St Lucie homeowners will enjoy the added structure provided by a sunroom or screen room. It will feel like a dedicated space in your home, a versatile room addition without the extensive construction work needed to add an extra bedroom, den or other "traditional" room. Plus, the ample sunshine provided by these rooms lends itself to a wide variety of activities - reading and homework, everyday playtime, music practice and so much more.
Define separate spaces
Though it may seem counterintuitive, the best way to get more out of your multipurpose sunroom or screen room is to actually divide it into separate "areas." For example, a handy bookshelf and reading corner on one side of the room, a relaxing spot with a sofa on the other - or for families with several children or work-from-homers, separate desk setups on each side of your space! While your needs for this room may change over time, you will always have the stunning, versatile space at your disposal - ready for whatever the years ahead may bring.
Make use of multipurpose furniture
When it comes time to furnish your new sunroom or screen room, multipurpose furniture will be your very best friend! An extendable coffee table, for example, can easily convert from downtime to homework time to dinner time. Comfy ottomans with hidden storage inside can be comfortable to sit on and will help you stow away toys, school supplies and virtually anything else you may find your space cluttered with.
Ready to install a gorgeous new sunroom, or embark upon another home improvement project? White Aluminum St. Lucie is here for you, and ready to help with whatever comes next! Call us today to get started.