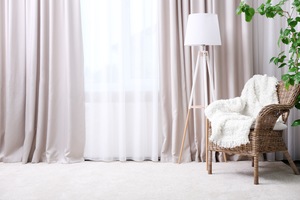 Have you ever really looked at your home from the outside? What are the things that most stand out? It's likely you notice your windows right off, even if that's not readily apparent at the time. Meanwhile, neighbors and visitors to your home are almost certainly taking note of how your residence looks and feels. That includes the type of windows you have, and how you've chosen to decorate them.
When you demonstrate pride of ownership, not only do you reap the immediate benefits in terms of increased property value, but you show your unique style and personality. People stopping by (or just passing through the community) will know that you and your loved ones are creative and civic-minded.
One great way to exhibit your flair for imagination is through interesting and innovative window treatments. Here are some of the most popular ideas:
Catch Their Eyes with Curtains
Some people think and even spread rumors that curtains are "out." Nothing could be further from the truth. In fact, elegant and sophisticated curtains are part of any great interior design. That much is evidenced simply by watching the latest home improvement television shows, or searching for décor ideas online.
People love curtains for their versatility and ability to display the natural beauty of windows. You might hang a printed curtain from a tree branch rod to create a rustic look and feel. Or, you could show loyalty to your favorite sports team (on game day or any day), by attaching pennants to a window valance. Other novel ideas include carved panels, flowing canopies, or painted frames in a variety of dazzling colors. Here's where you can really let your personality shine.
As you plan for new window treatments, it's a good idea to inspect the condition of your windows themselves. Many older and outdated windows have tiny cracks and imperfections. While difficult to see from far away, over time this causes drafts and reduced energy efficiency. In addition, impact windows in Stuart are built tough to withstand severe weather scenarios that sometimes plague Southeast Florida. That provides valuable peace of mind that you and your loved ones are safe inside, no matter what's happening outdoors.
Maximize Comfort and Light
Along with curtains, blinds are another excellent option that allows you to enjoy the Florida sun (and pleasant views of your property) while still maintaining privacy and shelter from harmful UV rays, dirt and debris, and other health hazards.
Plus, mental health experts say daily exposure to bright natural light improves mood, enhances productivity, and contributes to a general feeling of overall happiness and wellness. You'll enjoy the heightened connection to nature, while still feeling relaxed and comfortable in the safety of your own home. When you crave a breath of fresh air, simply open the window and experience the best of the Southeast Florida climate.
You could even take the idea one step further and create a personalized haven on your property. Florida sunrooms are tailor-made for serious relaxation. In addition, this multi-purpose space is perfect for a variety of uses, including home gym, playroom, study space, home office, guest accommodations, hobby room, and much more.
Make It Your Own
Some people love to gaze at the evening stars, so they choose large bay windows where they can appreciate the night sky from indoor comfort. Or maybe you're simply seeking a way to incorporate more of the Southeast Florida nature into your daily routine. New windows give you all the freedom and flexibility you desire, plus added benefits such as safety, energy efficiency, and more.
For more than 60 years, we've helped countless Florida residents with a variety of property enhancement solutions. From Stuart awnings, to carports and patio covers, hand railing, louvered roof systems, and other ideas, we have the products you need to make your home stand out. In addition, we're well-known as the go-to resource for pool enclosures in Port Saint Lucie and throughout the region. Contact us to discover how simple and affordable it is to dramatically improve your home starting today.