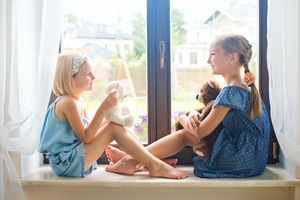 You might not give a lot of thought to the windows in your home. In most cases, this important feature often goes overlooked until something goes wrong. However, windows are much more than merely aesthetic. They help control the temperature inside your home and keep everyone inside safe and secure.
As summer approaches, now's a great time to think about replacing old and outdated windows in your residence. Just imagine how much your quality of life would improve, especially during the frequent hot and uncomfortable summer days in Southeast Florida. Here are just a few of the many benefits to replacing your windows this year:
Energy Efficiency
Older and outdated windows can have cracks and minor flaws that aren't visible to the naked eye. But just because you can't seem them, it doesn't mean these imperfections aren't causing problems.
Drafts create discomfort. Over time, they can also have a major negative impact on your utility bill. By contrast, replacement windows feature a tight seal and updated technology that helps keep you comfortable at all times. Best of all, you'll notice an improvement in your bills. You also get the peace of mind that you're doing something good for the environment.
Beyond climate control, did you know that impact windows in Stuart can also withstand the sometimes-harsh Sunshine State elements? Here in Southeast Florida, the threat of severe weather is always present. From thunderstorms, to high winds, and even hurricanes, upgrading your windows could mean the difference between property damage and injury, or safely riding out the storm.
Increased Comfort
You deserve to be content inside your own home. But with older windows, drafts and air leaks make reaching that goal all but impossible. When the Port Saint Lucie sun shines through the glass of outdated windows, it can cause you to overheat. Your furniture could also be damaged. Who has the time or energy to put up with that danger and frustration?
Replacement windows come standard with the latest technology designed to keep you and your loved ones safe and comfortable. That means you can still enjoy all that nature has to offer without being exposed to the sun's harmful UV rays. You can even have your windows tinted. Similar to Stuart awnings, this provides filtered light without completely blocking out the peaceful ambiance of nature.
Improved View and Curb Appeal
Plus, when you upgrade your windows to a more contemporary style, you can choose from a variety of shapes and sizes. That means you could dramatically increase the natural light inside your home. Psychologists say a bright residence contributes to a better mood and generally improved outlook on life.
Beyond the discussed benefits, your home will look spectacular from the outside when you invest in high-quality aluminum replacement windows. Not only do windows enhance the beauty of your residence, but if you ever sell the property, potential buyers will be impressed by the pride of ownership you've demonstrated. Even if you don't plan to move anytime soon, friends and family members will enjoy the stylish relaxation these windows add to your house.
Unmatched Versatility
As mentioned, replacement windows are more durable and dependable than older and outdated selections. Plus, you can easily customize this option to meet your unique personality and style. You can also keep that trend going by exploring all of the exciting and innovative property enhancement solutions available to you. That includes Florida sunrooms, carports and patio covers, hand railing, louvered roof systems, and much more.
For more than six decades, we've been the go-to home improvement resource for countless Southeast Florida families. In addition to the listed products, we've also built a strong reputation as the premier resource for pool enclosures in Port Saint Lucie. Contact us today to discover how straight-forward and affordable it is to improve your home with high-quality aluminum replacement windows.