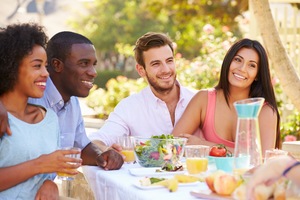 Temperatures are cooling across Southeast Florida, but the moderate climate and warm sunshine remain. Now's the time that many of us have been looking forward to all year. It's an opportunity to gather with loved ones through the holidays, and make plans to keep the good times rolling well into the new year.
Achieving that goal is simple and fun when you transform your property into a peaceful haven, tailored to your unique lifestyle and personal preferences. Discover ways to get the most out of life now and always with these tips.
1) Maximize Pool Time Fun
Who doesn't love a nice dip in the pool and/or a soothing rest by the water? The trouble is, the harsh Southeast Florida elements often put a damper on outdoor enjoyment. That's what makes pool enclosures in Port Saint Lucie the perfect addition to your home's exterior landscape.
You'll benefit from the shaded comfort of this eye-catching structure. Other novel features include natural pest control, a safe and defined space for pets and kids, extra storage, and more. This is also the ideal spot for casual entertaining.
2) Unwind in the Shade
If you don't have a pool, it's still possible to get a "best of both worlds" scenario outside. For instance, awnings in Stuart, Florida provide enough shade to keep you cool and content, while still allowing in the pleasant sunshine and fresh air.
If you're more comfortable inside, Port Saint Lucie screen enclosures help bring all the things you most love about the great outdoors inside. Here, you can appreciate the sights and sounds of your Southeast Florida property, while remaining safe and secure in the comfort of your home.
3) Dine (and Cook) Al Fresco
Top-rated restaurants and cafes know the benefit of enjoying a fine meal or snack outside. That's why more establishments today feature patio seating or a covered space where customers can relax. Now, you can bring that same experience right to your backyard.
When you create an inviting patio on your property, you'll soon become the party spot of the neighborhood. Gather the whole family for an evening cookout, host Sunday brunch with friends and neighbors, or simply take a load off after a busy day in the exterior serenity of your home. In times of light rain or wind, patio covers allow the festivities to continue.
4) Fashion a Kid-Friendly Space
Growing in popularity, pergolas are a great way to define a space without the restrictions of inside rooms. Built with high-quality aluminum that's naturally water and rust-resistant, these durable structures are also aesthetic-pleasing. Many people use their pergola as a focal point of the backyard.
Here, you can plan activities for children, such as arts n' crafts, board games, exercise groups, and more. Your pergola also creates an ideal spot for midday snacks and even naptime. Kids love to be outside. Harness this desire and keep children protected at the same time with a sturdy and affordable pergola.
5) Create Your Relaxing Oasis
When it comes to home improvement, there's almost no limit to what you can accomplish. All you need is a plan and a partner that can help make your dreams a reality.
For more than 60 years, we've helped transform homes across Southeast Florida with our innovative property enhancement solutions. That includes Florida sunrooms, retractable screen systems, pool enclosures, handrailing, carports and patio covers, and much more. Through the years, we've also built a solid reputation as the premier resource for impact windows in Stuart. Contact us to learn more about all the ways you can upgrade your property starting today.