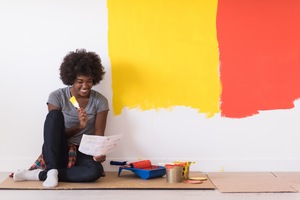 Your home is your castle and safe haven. It's only natural that you'd want to protect and improve your property to ensure it will stay in optimum condition for years to come. Accomplishing that goal takes time and effort, but it doesn't have to break the bank.
The fact is that there are many easy and affordable ways to add instant value to your property. REALTORs® agree that prospective buyers are impressed by homes that are carefully maintained and appear well cared for. Even if you don't plan to sell, minor improvements can do wonders for your property value and quality of life.
Follow this advice for simple and efficient ways to improve your Port St. Lucie home:
1) Update Fixtures and Hardware
You'll see an immediate change when you replace worn and outdated knobs and handles in the kitchen and bathroom. Faucets, toilets, sinks, showers/bathtubs, and other hardware can also benefit from a facelift or replacement.
Upgrades to walls and floors always add an element of interest and excitement. Painting walls, replacing flooring with wood laminate or tile, and other weekend projects lend an immediate return on investment.
Energy experts also recommend installing a programmable thermostat that will allow you to regulate and customize a temperature control profile throughout the day. That means when you're not at home, you can adjust the thermostat to use less air conditioning. According to the U.S. Department of Energy, reducing the inside temperature by just two degrees quickly adds up to big monthly savings on your utility bills.
2) Spruce Up the Outside
The first thing people notice about a home is the entryway. That means even simple upgrades to doors, shutters, and windows can make a big and noticeable difference. As with walls, doors can easily be repainted. It's also wise to replace outdated and/or worn handles.
Awnings and shutters add interest but also create safety. High-quality aluminum awnings in Port St. Lucie let natural sunlight in, while keeping out harmful UV rays. In addition, many homeowners choose to embrace the Florida lifestyle by incorporating natural elements to their property — effectively get the best of both worlds.
Don't forget the importance of efficient windows. More than a way to see outside, windows contribute to the general 'health' of your home. They can help regulate temperature, protect your loved ones from danger, and add an aesthetic mystique to your property.
In addition, landscaping and natural considerations always add interest and value. From large-scale landscaping projects to container gardening and front yard flower beds, incorporating Florida plants, trees, shrubs, and flowers on your property creates a visually-appealing motif and sets a calming scene.
3) Get Expert Assistance
Starting even basic home improvement projects can seem like a daunting and overwhelming task for some people. It doesn't have to be that way. There are many simple and cost-effective ways to instantly add interest and value to your home and surrounding area.
For more than 60 years, we've delighted Florida customers with our top-quality products and innovative property enhancement solutions. From pool enclosures in Port St. Lucie, to screen rooms, awnings and shutters, replacement windows, storm protection, and much more, we offer a full line of products to perfectly match your unique desires and requirements.
Browse our website for the many options available, and then contact us today to get started on creative and exiting options to improve your property.