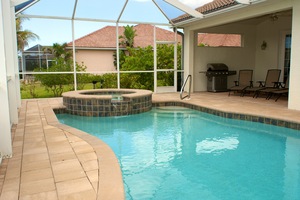 Though quality aluminum pool enclosures are built to withstand high winds and the sometimes-harsh Port Saint Lucie environment, these structures are still vulnerable to the elements. Downed trees, severe weather, and unexpected damage caused by wildlife and active children can easily occur.
In addition, there are times when the simple age of your pool enclosure will have you wondering whether it's more beneficial to repair or replace. Consider these factors as you make your decision:
Condition of Existing Structure
One of the most common areas of damage for any pool enclosure is the screens. Even when using the highest-quality mesh fiberglass screening, there are times when damage is unavoidable. Mere daily environmental wear and tear can break down even the strongest material.
Common causes of pool enclosure screen damage include:
corrosion caused by birds sitting on screen roof
corrosion caused by proximity to the ocean (salt and sand)
sun degradation (warping, faded paint)
holes caused by pests, squirrels, and other creatures
severe weather (including hurricanes, thunderstorms, and hail)
mold on fixtures and casings
In addition, simple every day use such as splashing water and excitable small children and pets bumping into the structure can damage your pool enclosure.
Aside from screens, it's equally important to regularly inspect aluminum posts and contact points with your home. Typically, performing minor repairs is a quick, easy, and cost-effective process. Substantial damage will require more detailed care and consideration.
Upgrade and Privacy Options
Aside from minor repairs, it's also wise to consider your wants and needs in a pool enclosure. Especially if you were not the one to initially install the structure (purchased a home with existing structure), now's a great time to decide on improvements and upgrades to match your unique style and personality.
For instance, screen technology has advanced in recent years to incorporate new elements such as solar, privacy, and more. Today's screens are also more tightly woven, durable, and better at keeping bugs, dirt, and debris from entering your pool.
In the era of hurricanes and severe weather, improvements have also been made to other material to ensure the integrity of your pool enclosure isn't compromised in a storm. Security features such as childproof locks keep guests, kids, and pets safe and comfortable.
Along with possible pool enclosure repairs, aesthetics and personal preference also play a role. Our high-quality aluminum products come with a visually-appealing white or bronze finish to complement the landscaping and other elements of your property. Choose from flat, hip, gable, or dome-style roofline to perfectly match your existing décor.
Ease and Affordability of New Installation
Another thing to consider is the fact that all damage may not be visible to the naked eye. Why risk the possibility of an accident while loved ones are enjoying the pool?
Offering more than six decades of experience, our skilled and qualified team members can assess your current pool enclosure and make recommendations on the installation of a new structure to match your budget and personal preferences.
From pool enclosures, to screen rooms, retractable screen systems, roof overs, replacement windows, and more, we have a variety of property enhancement solutions to turn your home into the relaxing retreat you've always envisioned. Contact us today for more information.