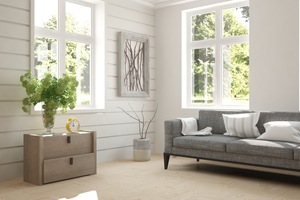 Windows today are about much more than aesthetics and having a pleasant view to natural outside beauty. Often underappreciated, the windows of your Southeast Florida home are an essential feature affecting climate control, personal security, and more.
Since windows are subject to constant daily stress, this home hardware will eventually reach the end of its natural life. If you live in a home where the windows haven't been updated in some time, it's wise to consider a full replacement. Read on to discover the major benefits of installing quality custom windows on your property.
Safety and Security
As mentioned, custom windows are your first line of defense against a variety of outside threats. Many people think crooks will just smash a window to gain entry to your home. The fact is, when you invest in high-quality impact windows in Stuart, Florida, criminals will quickly move on to the next home when it becomes clear they can't easily break in.
Then there are storm protection factors. Today's hurricane windows can withstand high winds and impact from flying debris. When coupled with other storm security features (such as hurricane shutters), you get the peace of mind that your loved ones and property can easily weather any storm.
Energy Savings
Older windows create drafts and obscure vision. By contrast, new custom windows are installed with a powerful leak-eliminating seal. Over time, this can save you big money in climate control costs. Some homeowners choose to add other features such as awnings in Port St. Lucie. Doing so will make your home stand out when viewed from the street.
Plus, new windows make it easy to gaze into the outside world. No more squinting to make out figures, or having your vision obstructed by window stains, discoloration, and other defects. Custom windows also allow in more light. You'll feel better, and reap even more savings by using less electric light during the day.
Straight-Forward Installation
No one has the time or desire to spend hours searching for acceptable windows. Then, you have to wait weeks to get them installed on your property. Why waste your precious time like that? When you work with a trusted and reputable firm well-versed with high-quality custom windows in Fort Pierce, Florida, you get expert installation in a timely manner.
Custom windows can also be "mixed and matched," which means you're not locked into any style. What works for one area of your home might not be the best choice for another. It can be fun and exciting to pick the best designs all around your property.
Best of all, custom windows can be personalized to your exact desires and requirements. Operating within your budget, you'll actually end up saving money by choosing this route over other options. That keeps more cash in your pocket or allows you to earmark funds for other needed home improvement projects.
Improved Property Value
Along with the mentioned benefits, you want and deserve windows that allow you to fully appreciate the pleasant scenery in and around your Southeast Florida property. Custom windows can be tailored to your exact needs, including size, shape, and other considerations. That makes it easy to turn your home into the best on the block.
To that end, curb appeal and a generally good looking property continue to be selling points, according to REALTORs®. Even if you're not in the real estate market, the pride of ownership you demonstrate through property enhancement won't go unnoticed by neighbors and passersby.
For more than 60 years, we've helped countless Florida residents with a variety of property improvement projects. That includes carports and patio covers, louvered roof systems, pool enclosures, and more. In addition, we're proud to be a reliable resource for screen enclosures in Vero Beach, Florida and throughout the region. Contact us today to discover all the exciting and affordable options available to you.