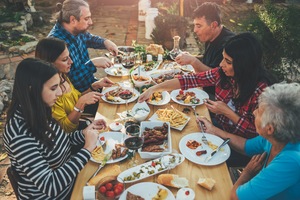 Life in Southeast Florida seems tailor-made for outdoor enjoyment. Now that the cooler fall and winter months are coming, there's even more reason to step outside and experience all that Mother Nature has to offer. Thankfully, sprucing up your property and adding exciting elements is fun and cost-effective.
As 2018 winds to a close, there's still time to incorporate novel trends to both the interior and exterior of your property. Plus, it's simple to begin the new year in style when you start making home improvements now. Here's what's hot in the world of home design and décor:
In and Outside Your Home
Homeowners across the Sunshine State are constantly searching for ways to marry outdoor beauty with indoor elegance. Port St. Lucie screen enclosures easily accomplish that goal. With this option, you can enjoy the fresh air and natural wonder outside your door while still staying comfortable and safe inside. If clouds and rain roll in, your relaxation won't be affected.
Other options to reach a similar experience include pergolas, awnings in Port St. Lucie, Florida room additions, and more. You can even get double-duty comfort and function with a high-quality aluminum carport or patio cover. These ideas allow you to enjoy life's simple pleasures when time permits. Then, you get valuable space to store grills, patio furniture, lawn ornaments, and more.
Landscape and Garden
Incorporating natural elements into your property design creates a peaceful atmosphere. If you don't have the space or desire for large-scale landscaping, vertical gardens are all the rage at the moment. This idea maximizes space and contributes an eye-catching elegance to your outdoor motif.
Further, embrace that ambiance by adding an arch or pergola. Get artistic by allowing vines to gracefully climb pergolas posts. Strategically-strung holiday lights create a welcoming scene. Or, take nighttime lighting to a new level by installing innovative and exciting overhead lights (maybe even a ceiling fan) to your Florida room. Design experts say this year is all about bright open spaces. Add a personal flair for an outstanding effect that matches your unique personality.
You can also pair fashion with function by incorporating safety and security items. For instance, hurricane shutters in Port St. Lucie are nice to look at and also provide valuable protection in the event of severe weather.
Colors and Décor
Along those same lines, more people are including bold colors and patterns in everything from patio furniture, to rugs and floor covering, walls, and more. Put a festive spin on the classic black-and-white look by creating a checkerboard or braided design. Bright pastels are also making a comeback. This will help your Port St. Lucie property design really pop.
Don't forget the outdoor accessories. Design experts say less is more in this regard. Side tables, planters, even interesting free-standing art pieces lend both elegance and opportunities for interesting conversation.
Other Enhancements
At the end of the day, your home should reflect your unique personality and lifestyle preferences. Trends aside, you deserve a property that you can be proud of, where friends and loved ones can relax and make precious and lasting memories. So, it's important to find property enhancement solutions that work for you, and match your specific desires and requirements.
For more than six decades, we've helped homeowners throughout Southeast Florida find and create innovative upgrades for their properties. That includes Florida room additions, carports and patio covers, louvered roof systems, storm protection and security, and more. We're also well-known and respected for installing efficient and affordable impact windows in Fort Pierce, Florida and the surrounding area. Contact us today to get started on all your home improvement projects.