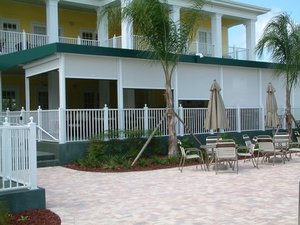 Indoors, "flex rooms" are known as multipurpose spaces that are geared to host a wide variety of activities—from laidback relaxation to study time and beyond. As a result, they are a very handy room to have on hand! But who says you can't enjoy the same flexibility outdoors?
Today, we're taking a look at a few fun ways to turn your current outdoor space into a flex space of its own. Just read on to learn more.
Enjoy the best of both worlds with a retractable screen system
Your flex room should be custom-suited to you and your interests, whatever those may be depending on the day! To maximize your opportunities outdoors, consider a retractable screen system. Unlike a more permanent screen solution, a retractable system lets you enjoy the clean, cool effect of screens (including no bugs!) when you're entertaining friends or enjoying an afternoon nap—while still letting you open the screens via motorized controls to enjoy added fresh air or extend your "room" into your backyard area. The result? The best of both backyard experiences!
Opt for hidden storage
As is the case with any great flex room, your outdoor space will benefit greatly from hidden storage solutions. This space should serve as a blank canvas for whatever the day may bring, so keep its décor simple and outdoor-friendly for those days when you want to open up the screens and head outside. One great storage option is a table that doubles as a storage container for anything from pool towels to toys, outdoor gear and sports equipment, and much more. You can often find these outdoor-friendly tables as part of a complete patio set.
Add flexible touches
To go with the flexible nature of your room, opt for touches that lend themselves to all kinds of events and activities. For example, a corner buffet table can easily switch from a brunch serving station to a pool day tiki bar when you want to head outdoors! Similarly, battery-powered string lights can add a warm glow to your screened-in room as you relax inside, or create a resort-style ambiance for those spending time in the pool or backyard when the screens are open. This might be a great space to store board games that can be just as easily enjoyed inside as they can out on the grass or by the pool, too! Whichever way you use your flex room, putting flexibility first is a great way to ensure that your space works to suit you—not the other way around!
We hope that these ideas help you achieve an outdoor flex room you truly love! Be free to enjoy whatever the day may bring with these handy home improvement ideas. For flexible features including retractable screen systems or room additions in Port St. Lucie, call White Aluminum & Windows St. Lucie today. We're here to help with crafting your dream home lifestyle—and backed by 60 years of experience, we're able to go the extra mile with storm protection, pergolas, room additions and much more, too.