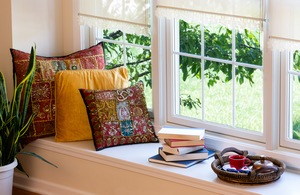 There's nothing cozier than a built-in window seat, where you can read, snooze and unwind with ease! We love this homey architectural feature, and have a few tips on how to achieve the perfect one in your own home. Just read on to learn more.
Pick the perfect view
If you don't already have a window seat set up, consider doing so somewhere with a perfect view - whether it's of your backyard pool, a particularly beautiful (and shady) tree or something else altogether, the view should inspire the reader as much as the book in their hands.
Storage is key
Built-in storage is key to any ideal window seat set up, usually found beneath the seat itself. This is the perfect place to store books - extra points if you go for a fun, thematic display like rainbow-organized books!
Install impact windows for serious savings
All the light your window seat area receives is perfect for poring over a good book - however, with old or subpar windows, all that gorgeous light can also damage or fade your drapes, upholstery, furniture and even your books! Fortunately, our White Aluminum impact windows are double-glazed to let the light in, but leave the damaging UV rays out. This also results in serious savings on your monthly energy bill, which you can feel great about.
Add a Stuart awning for cool comfort
To further bolster your impact windows' protective power, add a beautiful awning! Not only does this feature look great from the outside - it also helps shield you, the reader, from harsh sunny rays, providing more privacy as you unwind with a good book.
Unwind with ease! We hope that these ideas help you craft the perfect window seat in your Southeast Florida home. Remember - for help with this project and so many more, White Aluminum St. Lucie is at your service. Just contact us today to get started.