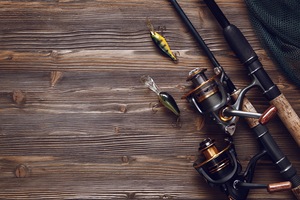 Southeast Florida is a true angler's paradise - from fishing the flats of Biscayne Bay, to thrilling offshore adventures in the "Sailfish Capital of the World," a.k.a. Stuart, there is an endless world of on-the-water fun to enjoy! If you are a passionate angler, you may benefit from building a backyard shed filled with fishing gear and essentials for easy access. And White Aluminum is here to help! Read on to learn more.
Use smart storage for effortless organization
No one knows your fishing tackle quite like you - so opt for an organization system that helps you "tackle" it all with ease! We personally love streamlined cabinets with separate cubbies for different gear types.
Store rods and other items against the wall
Your wall can also be a helpful tool for storing all your fishing gear! With the addition of some hardware, you can easily keep your fishing rod safe and upright. You can also add handy dividers to store larger, angling-adjacent items like your canoe, kayak or paddleboard! Plus, remember to add several handy hooks for hanging your lucky fishing hat and the end of the day.
Add ocean-inspired accents
This is your personal hobby space, so let it be a reflection of you! Whether you do this through ocean-inspired paint or nautical accents (we love a classic "Gone Fishin'" sign, there is no shortage of ways to deck out your shed-turned-fishing shack. And remember to snap plenty of photos while you're out on the water with your catch - these prove to be the best mementos worth displaying in your angler's escape!
We hope that these ideas help you craft a charming, functional, fishing shack-inspired escape with your beautiful backyard shed! For help with this project, Stuart awnings, impact windows and so much more, White Aluminum St. Lucie is here to help. Call us today to learn more.