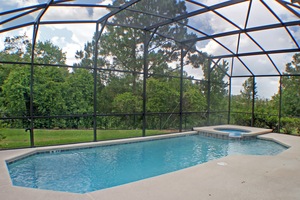 If you have a pool, you already know the amazing benefits to health and comfort. If you're considering a pool for your property, you're probably already aware of the quality of life improvements that await. Still, what might not be so clear in either case is the importance of investing in a high-quality aluminum pool enclosure.
Doing so extends the life of your pool, protects your family and pets, helps keep intruders and unwanted guests away, and more. Read on to discover the biggest perks of this versatile structure.
1) Safety and Security
Pool enclosures create a natural barrier that keeps out prying eyes and curious wildlife. At the same time, the readily-apparent parameters help children understand where they can and can't explore.
Meanwhile, this structure creates and preserves your much-deserved privacy. In addition, criminals think twice before striking a home with a pool enclosure. They know that the pride of ownership you display suggests a homeowner who cares about their property and neighborhood.
2) Comfort
The Southeast Florida sun can be intense, especially on hot days. Plus, the threat of harmful UV rays is always present. Similar to how Stuart awnings provide pleasant shade, pool enclosures help filter the intensity of the sun. This lets you enjoy light and warmth without any of the negative aspects.
As you enjoy relaxing by the pool and having fun in the water, you might also plan a casual get-together under the shade of your pool enclosure. Guests will get all the benefits of being outside, while still staying comfortable and protected.
3) Added Value
Pool enclosures naturally keep dirt and debris from entering your pool. That cuts down on maintenance costs and the number of chemicals required. Plus, your guests can enjoy poolside pleasure with the knowledge that potentially-harmful objects haven't made their way into the water.
Then there's the curb appeal aspect. Everyone is impressed by a homeowner who clearly cares about the look and function of their residence. When it comes time to sell, REALTORs® say prospective buyers appreciate homes with pool enclosures over those that don't feature this dynamic structure.
4) Versatility
And that's saying nothing about the rugged strength and durability of pool enclosures made with fine mesh fiberglass screening. Able to stand up to rough housing from pets and children, this material also provides excellent air flow and visibility. Aluminum framing that's naturally water and rust-resistant gives you the peace of mind that this structure will remain intact in the face of the sometimes-harsh Southeast Florida elements. All that adds up to the fact that your pool enclosure can provide you and your family with lasting comfort for years.
Along with the mentioned benefits, pool enclosures can also easily be coupled with other innovative property enhancement solutions to really make your residence stand out. That includes Florida sunrooms, retractable screen systems, PGT windows, carports and patio covers, acrylic and vinyl rooms, and much more. We're also the go-to resource for impact windows in Stuart and throughout Southeast Florida. Contact us today to get started on an outstanding pool enclosure of your own.