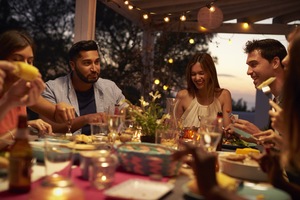 Summer is just around the corner, which makes now the ideal time to start thinking about all the fun barbecues, family reunions, pool parties, and other pleasant events you'll be hosting at your Southeast Florida property. When guests and loved ones can have a blast, relax, and unwind at your home, they'll feel more connected to the area and each other.
Thankfully, there are plenty of fast, fun, and affordable ways you can spruce up your backyard (and add some interesting and innovative elements) to ensure everyone has a summer to remember. Use these ideas to get started:
Pay Attention to Your Patio
Life moves fast, and it's not always easy to stay on top of yard and home maintenance. Over time, weeds, dirt/debris, and other unsavory situations can crop up. The good news is that, with elbow grease and a little innovation, you can make your property stand out in no time.
For example, similar to awnings in Port Saint Lucie, carports and patio covers provide you and your guests with pleasant shade while still being able to enjoy all the exciting buzz of your get-together. Florida sunrooms take the relaxation one step further. Plus, with this option, you can appreciate the beauty of your property no matter the time of day, or what's happening outside.
If you don't have a patio (or they're just not your style), it's simple to install a high-quality aluminum pergola in your backyard. Along with entertaining, this is a great space to study, meditate, enjoy your morning coffee, take an afternoon nap, or just sit peacefully and take in the gorgeous Southeast Florida climate.
Plan a Pool Party
Nothing says summer like poolside fun and games. Plus, everyone loves a pool party, even if they're not big on swimming. Just lounging by the pool, enjoying a fine adult beverage or two, trying out some tasty snacks, and bonding with friends and loved ones is enough to build lasting, pleasant memories.
And with a high-quality aluminum pool enclosure, you can be sure that your property and guests are protected. Made with durable mesh fiberglass screening, you can easily keep out pests, dirt/debris, and foreign objects that could damage your pool. This option also helps keep kids and pets safe and content.
Add Artistic Interest
Who says fine art has to be in a stuffy gallery? Highlighting the windows in your home is fun and easy when you think of creative ideas that draw attention.
For instance, you can create colorful and lacy patches by dyeing doilies and stringing them together. Or, bring the outside in by starting a vertical garden right on your window. Another idea to achieve that goal is to build shelving across your windows and position aesthetic potted plants.
Fashionable and functional, impact windows in Vero Beach, Florida keep your property and loved ones safe in the face of severe weather. In addition, neighbors and visitors will marvel at the responsible pride of ownership you demonstrate by being proactive in this way.
Let Your Imagination Run Wild
Are there certain home improvement elements you've always wanted but never seemed to get around to installing on your property? Or maybe you have some great ideas, but aren't entirely sure just how to get started. Thankfully, with so many innovative property solutions available, it's easy and fun to create the personalized backyard oasis that previously existed only in your dreams.
For more than six decades, we've helped people across Southeast Florida make their properties stand out. Along with the mentioned enhancements, we also specialize in acrylic and vinyl rooms, CWS windows, do-it-yourself (DIY) kits, louvered roof systems, roof overs, new siding, storm security and protection, and much more.
Though the years, we've built a solid reputation as a fair and dependable dealer of Port Saint Lucie screen enclosures. Contact us today to discover all the exciting home improvement options available to you this summer and throughout the year.