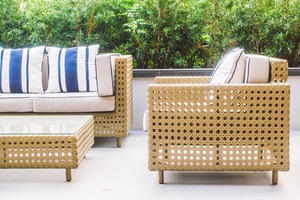 You want your Sunshine State pool to look beautiful all year long, whether you're swimming in it or just enjoying the view! Here are a few fun ways to add new décor and design to your pool and patio area.
Add pool finish…
Has your pool's pristine interior seen better days? You might want to drain your pool and clean it yourself right away, but sometimes it can be hard to remove long-term stains and wear-and-tear from your pool's walls—and naturally, you want to prevent them from recurring down the line, too! A new pool finish might be just what you need for a gorgeous new backdrop.
… or colorful tiles
Add a bit of sparkle with the help of pool tiles surrounding your swim space! Dazzling mosaic designs can breathe new life into your pool without too much time or design overhaul on your end.
Try a splash of color
Just like a fresh coat of paint can add new character to your home, so too can color be used in your poolscape to create a new outdoor experience. Add new cushions to your outdoor furniture, a set of bright Adirondack chairs or even a new umbrella.
Light up your splashing space
Warm, glowing lights can add a welcoming ambiance to your space! String up outdoor-friendly lights for those fun, lazy days when day turns to night while you float around.
Cover your pool with a stylish enclosure
With all the work you're putting into your beautiful pool, you naturally want to protect it from the elements! With the help of White Aluminum's Port St Lucie pool enclosures, you can add comfortable shade as well as protection from the elements—keeping your water clear from seeds and leaves, while also shielding your patio furniture, pool floats and umbrella from the sun's harshest rays which can lead to fading over time.
Plus, they come in beautiful styles and colors so you can choose a look that matches your one-of-a-kind space. Just call White Aluminum St. Lucie today to learn more.