Louvered Roof Systems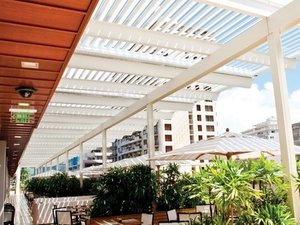 Take Control of Your Outdoor Living Space
Rain or shine, Equinox® Louvered Roof system creates an outdoor living space that allows you to take control of when and how you enjoy the outdoors. The Equinox® Louvered Roof system is a versatile, solar-powered, and motorized adjustable patio cover that combines style and function to create or enhance your outdoor living space.
Style
Available in white, sandstone and clay the Equinox® Louvered Roof system enhances outdoor living areas, such as patios, courtyards, outdoor kitchens, swimming pools, spas, and much more. Virtually any material and finish can be applied to the Equinox frame to achieve your desired look and feel for your outdoor living space including, but not limited to, aluminum, steel, wood, stucco, and paint.
Function
The Equinox® Louvered Roof system is versatile enough to accommodate any architectural style, such as existing structures with gable or pitched roofs, bay windows, doors, or an angled roof or walls. The Equinox® Louvered Roof system can also be engineered for free-standing applications.
With a touch of the button, louvers can be positioned anywhere within their 160-degree range of motion for the exact amount of protection or ventilation desired. The solar-powered battery pack eliminates the environmental impact and expense since no additional energy is required.
Equinox® XP
Equinox® XP is made from extruded aluminum. The lightweight aluminum louvers are durable and corrosion resistant which makes Equinox® XP ideal for both coastal and high elevation applications.
Extruded aluminum louver and frame: stronger, lightweight and corrosion-resistant
Standard colors: white, tan and clay
Remote control: multi-zone control for ease of use
10-year limited warranty
Equinox®
Equinox® is made from all metal components. Unlike plastic or fabric, metal components will perform well in both heat and rainy environments.
All metal materials: more durable than traditional patio covers
Standard colors: white, tan and clay
Remote control: multi-zone control for ease of use
10-year limited warranty